Whether getting down to business or kicking back at the bar, there comes a point in the day where you have to roll up your sleeves. But not all rolls are created equal, and there are more techniques out there than most people know. From sheer practicality to a more refined, precise effect, there's a shirt cuff out there to suit every man, dress shirts, and any occasion. Here are three classic techniques to perfect your sleeve style - so unbutton those cuffs and get ready to roll up your sleeves.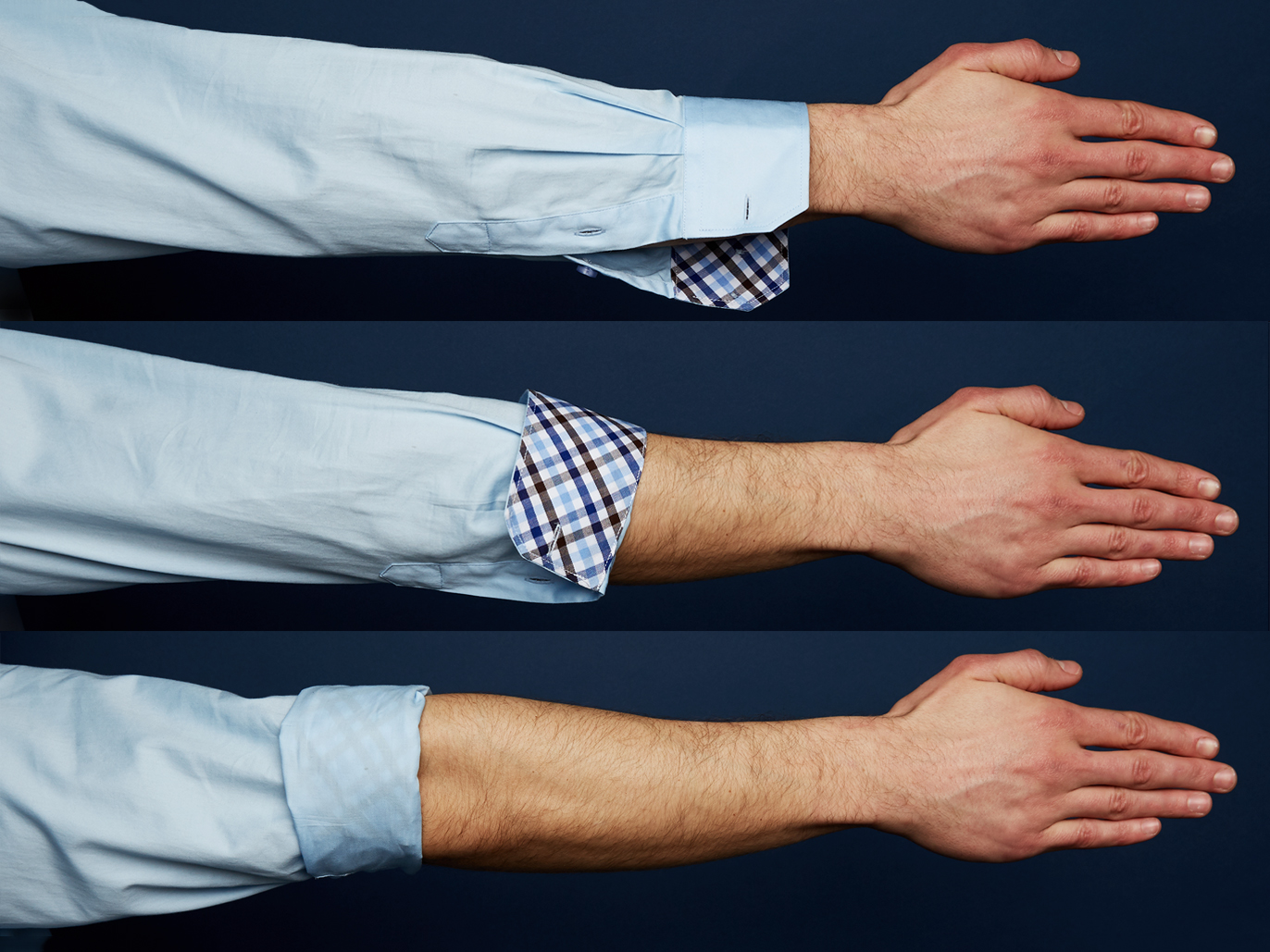 The Basic
This is easily the most intuitive and frequently used fold and is great for those who like to keep things simple. For getting down and dirty at a moment's notice, this roll provides a great quick-fix, but it lacks the staying power of our other techniques. Nevertheless, it is a good staple fold and a speedy solution for a stifling hot office.
Unbutton your cuff and gauntlet buttons and fold the cuff back towards you once.
Roll your sleeve back once more, using your cuff to gauge the width of the fold.
Continue the roll to just under your elbow, or up to the bicep for a sharp retro feel. The latter works best with a cool crisp white shirt and is suited to those with a more vintage style.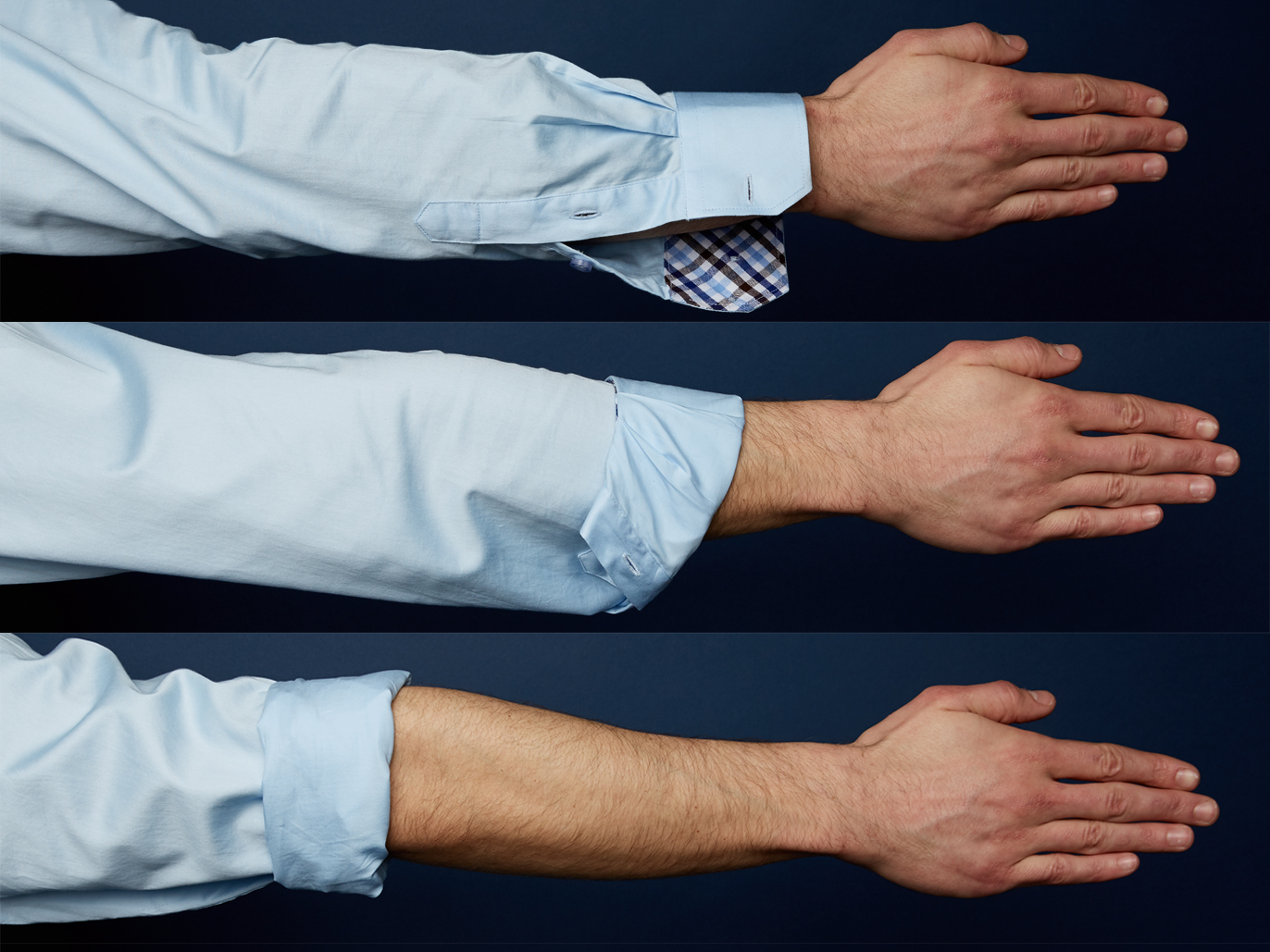 The Casual
The casual cuff involves the least amount of folding, and as the name suggests, is more laid-back in presentation. This easy roll is great for adding bulk to thin arms, or as a temporary fix for a sleeve that's too long. It's a looser roll than the other techniques and is a surefire way to channel cool nonchalance - match with denim or flannel for a chill, dressed-down vibe.
As before, unbutton your cuff and gauntlet buttons and fold the cuff back towards you once.
Roll back once more, leaving the cuff in the middle of your forearm.
No more rolling required! If you're left feeling a little too casual, just tuck in the corners for a neat, thought-out finish.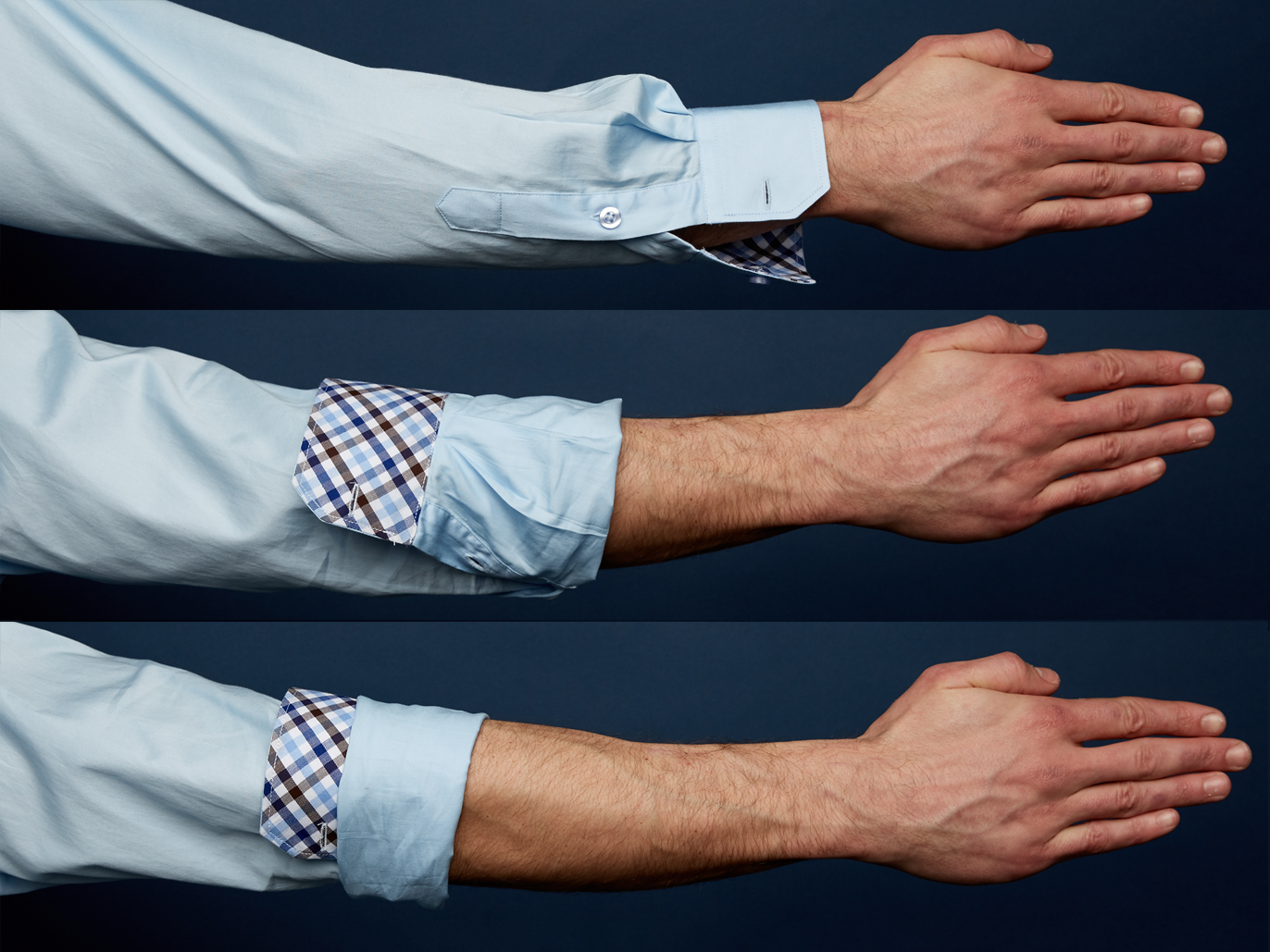 The Italian
For those who like a sleeve with a touch of panache, the Italian provides a clean, smooth roll that will last you all day. Easily adjustable to suit your mood, this slimline fold leaves you with minimal creasing, just one simple tug and you're back to full length. For shirts with contrasting lining, this fold is key - it leaves a little cuff showing for a suave splash of color.
Unbutton your cuff and gauntlet buttons, and fold your cuff back all the way to the elbow.
Take the bottom of the now inside out sleeve and fold it towards you so it almost covers your cuff. How much you show is up to you, but roughly a third is the standard procedure.
At this point, the sleeve should still end just at the elbow, but feel free to keep folding if you so desire. This versatile fold is best saved for dress shirts for a true Italian feel.
The devil is in the details when it comes to cuffing your shirt, and like all sartorial choices, an artfully-rolled sleeve sends a message without saying a word. And let us help with a style option to get you started with this sweet button down by Sir Raymond Tailor