A Tale Of Tragic Decor
I'm going to tell you a story of a man I once knew. We'll call him Ari. Ari A. Rugg (insert groan here). So Ari lived in this slick urban loft. A converted cotton mill, the original hardwood floors had a rich, warm, almost caramel-like patina which stood in contrast to the stark grey steel beams and iron framed windows that stretched 20 feet to the ceiling. Ari was a divorcee and after doing the dad thing in the suburbs, he was ready to reinvent himself, and this loft was the perfect start.
The End.
An Embarrassment Of Riches (ie., Sofas)
Yes. The end. Because here's the thing. Ari had this great big, beautiful space that was a floor to ceiling man cave, but when it came to finishing that space, he had no idea what to do with it. He picked up a conference table at a fire sale, threw a few mismatched chairs around it, and added a needlepoint throne with a blown-out seat at the head of that table. He took in stray sofas, loveseats, and armchairs - all leather, none matching. Green, red, tan, and dark brown.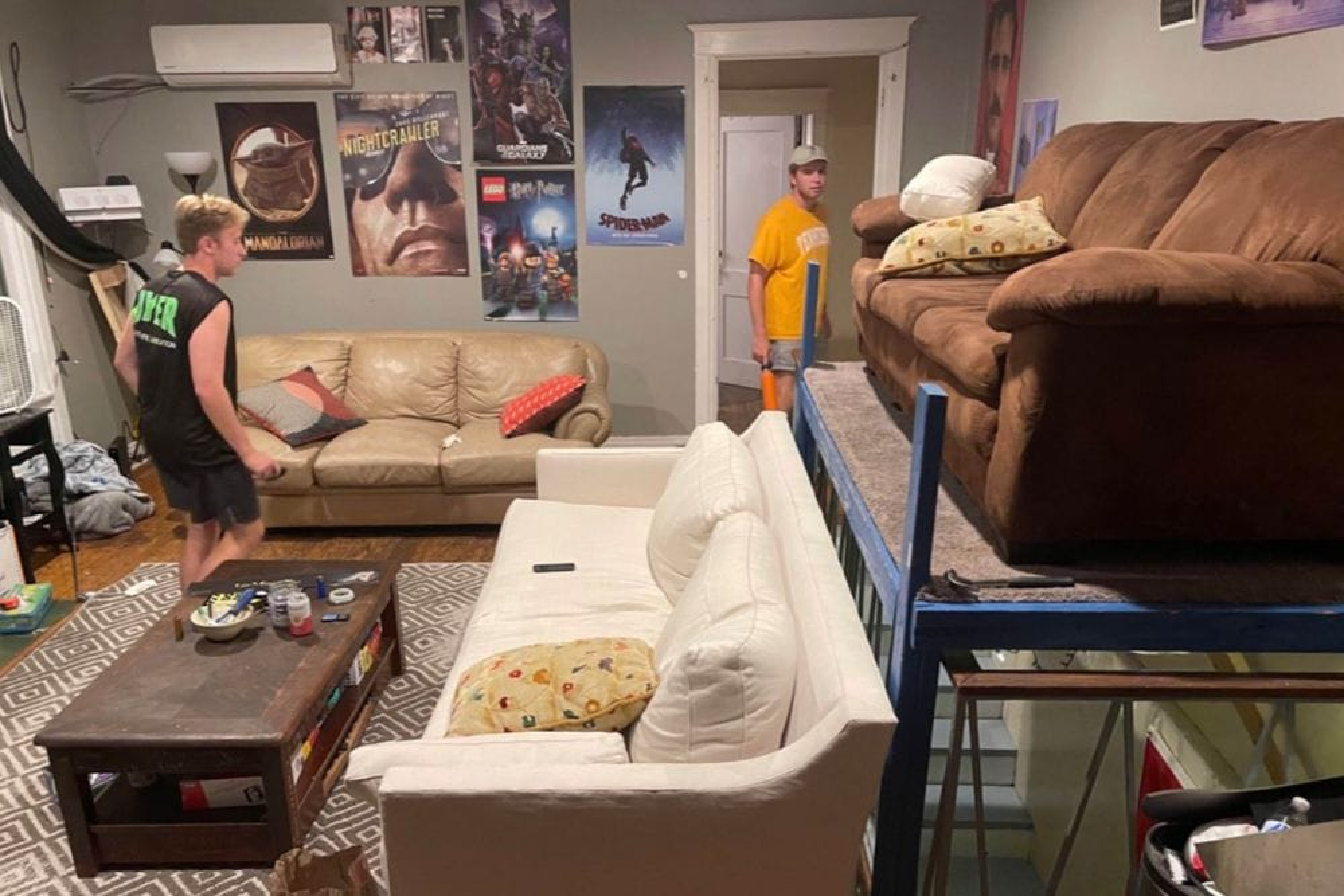 Then there was his beloved easy chair - the one in which he held his babies and read them stories each night. Unfortunately it was also the one with water stains and a huge oily patch on the headrest. He put up two flat screens - side by side - so he and his friends could play video games - side by side. There was a vintage Honda motorbike parked behind a makeshift workbench - which ran perpendicular to his bed - in a space he lovingly called the garage. It wasn't actually a garage. And while Tinder supplied never-ending options for a feminine touch, Ari never took a single one of his dates (see the minimalist) up on her offer to redecorate.
But the crime... the transgression for which our boy could not be forgiven... is that with all that furniture and all that floor space, there was not one. Single. Area rug. I mean, okay, there was a bath mat in the bathroom, but apart from that, nothing.
Relatable? We see you nodding. You poor sweet soul. We know. And we're here to help.
Meet The Humble Area Rug
Allow us to introduce you to... the area rug. A humble home textile that has graced floors since somewhere around 500 B.C. The area rug was first woven from plant or animal fiber and was used as a method of keeping floors warm. But as time passed, area rugs became a symbol of prestige and class. In time, Persians became renowned for their ability to weave precious metals like gold and silver into wool rugs. In time, the art was brought to Europe by traders from the Middle East and Persia. Gone were the days of palace halls that were lined with hay flooring.
The demand for these beautiful and intricate rugs began to spread slowly but surely across continents until they became a standard. Today, area rugs come in all shapes and sizes. They can be bold or muted. Fibers are natural and man-made. And you can use them inside, of course, but they also add softness and beauty to the backyard patio! Heck, they even make area rugs that you can toss in the washing machine for easy cleanup.
"It Really Ties The Room Together"
And just in case you're looking for more modern validation, what other piece of home décor can go from being prominently featured in palaces to prominently featured on the silver screen. That's right! Even The Dude appreciate the beauty of an area rug. In The Big Lebowski, when his rug is stolen, he laments that it "really tied the room together", and he was right!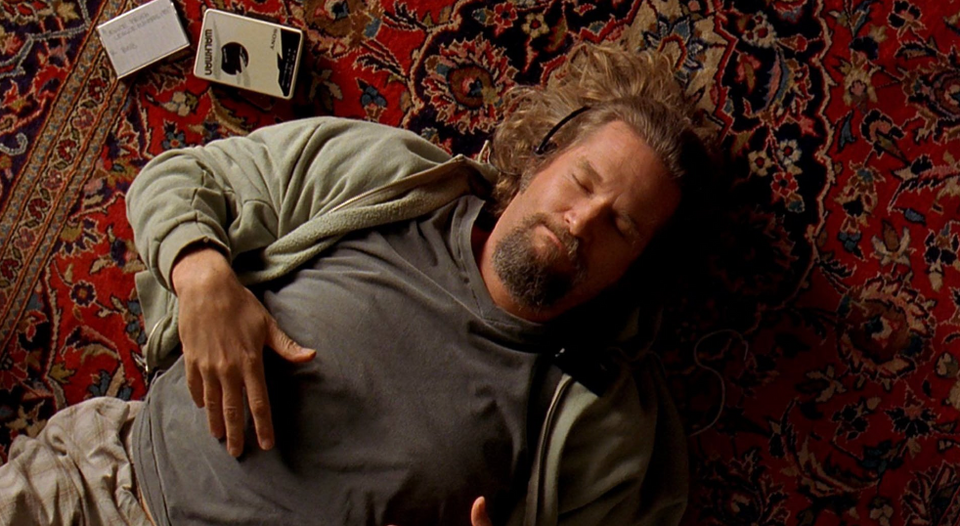 Fact is, area rugs are everywhere, and with good reason. They're warm, colorful, and – as The Dude can attest – they tie the room together. But for no good reason at all, you guys won't purchase them. And that worries us. Because what kind of sociopath wants to spend his days padding around on uninviting hardwood, icy tile, or damn near glacial concrete? You. You're that kind of sociopath.
So here we are. And hand to god, we're going to make a believer of you if it's the last thing we do. Because Dude, you need an area rug.
The Many Merits Of Area Rugs
First – and we already covered this – the warmth. Area rugs turn cold surfaces into plush playgrounds for your feet. They trap drafts and provide a thin layer of insulation. That long walk to the fridge for a midnight snack is a whole lot easier with a rug underfoot.
Next, an area rug really ties the room together. This should be a phrase that every dude – not just The Dude – knows. They bring color, style, and continuity to your space. A modern, spartan space can be made to feel cozy with the addition of a simple gray shag. A sofa factory – as we mentioned earlier – suddenly has an inviting, warm vibe with the addition of a nice, traditional rich-toned Oriental rug. There are such an array of styles that we think the only thing that could possibly be keeping you from a purchase is deciding which one is the right one.
Finally – and this might be controversial – we love that an area rug attracts dust bunnies and dirt. Okay, we know that sounds absurd, but anyone who has had a room with hard surfaces and no area rug knows that dust bunnies can multiply even faster than their namesake. And anyone who has had to walk for any length of time on hard surface knows that either your feet are eternally gritty or your socks are forever dirty. Will you have to vacuum your area rug? Yes! But its better than the alternative.
Big Brother Knows Area Rugs
If you're taking to the Google, there is a vast array of information out there on selecting an area rug. But honestly, we're not trying to make you an expert here. We're trying to give you the information you need so that you can make an educated choice and select a rug that you can be proud of. So with that...
There are five things to consider when selecting your area rug:
What room is it going in?
What size and shape should it be?
What should it be made of?
What style should it be?

How thick should it be?
---
Breaking Down Area Rug Basics
So this would be the layout for our guy, Ari. He is living in a loft where the boundaries of each living space are undefined. An area rug is an excellent way to define that space and create a the feel of a room, even without walls. As you'll see, in the illustration above, all furniture fits within the boundaries of the rug.
Size & Shape
The size and shape of this rug are predicated on the boundary of the furniture. The best way to determine the size you need is to create your layout, then measure out at least 18" from the back of all pieces centered around the exterior.
Materials & Style
In this case, either a natural or synthetic fiber will work well. And while we love mixing styles - a traditional Dhurrie rug with modern furniture - if we're keeping it simple, select the area rug that best fits the type of furniture you have. Modern furniture? Stick with something clean and neutral. Farmhouse vibes? Go with something that has a more rustic feel. Be mindful that anything in large scale is - well - BIG, so while you might love the busy pattern of your friends geometric rug, that might not play out well with your mega sized rug.
Pile Height
In this case, we'd recommend sticking with a reasonably low pile height. A massive shag rug may look amazing, but remember you're going to have to vacuum and maintain this rug. Keep it simple when selecting a large rug.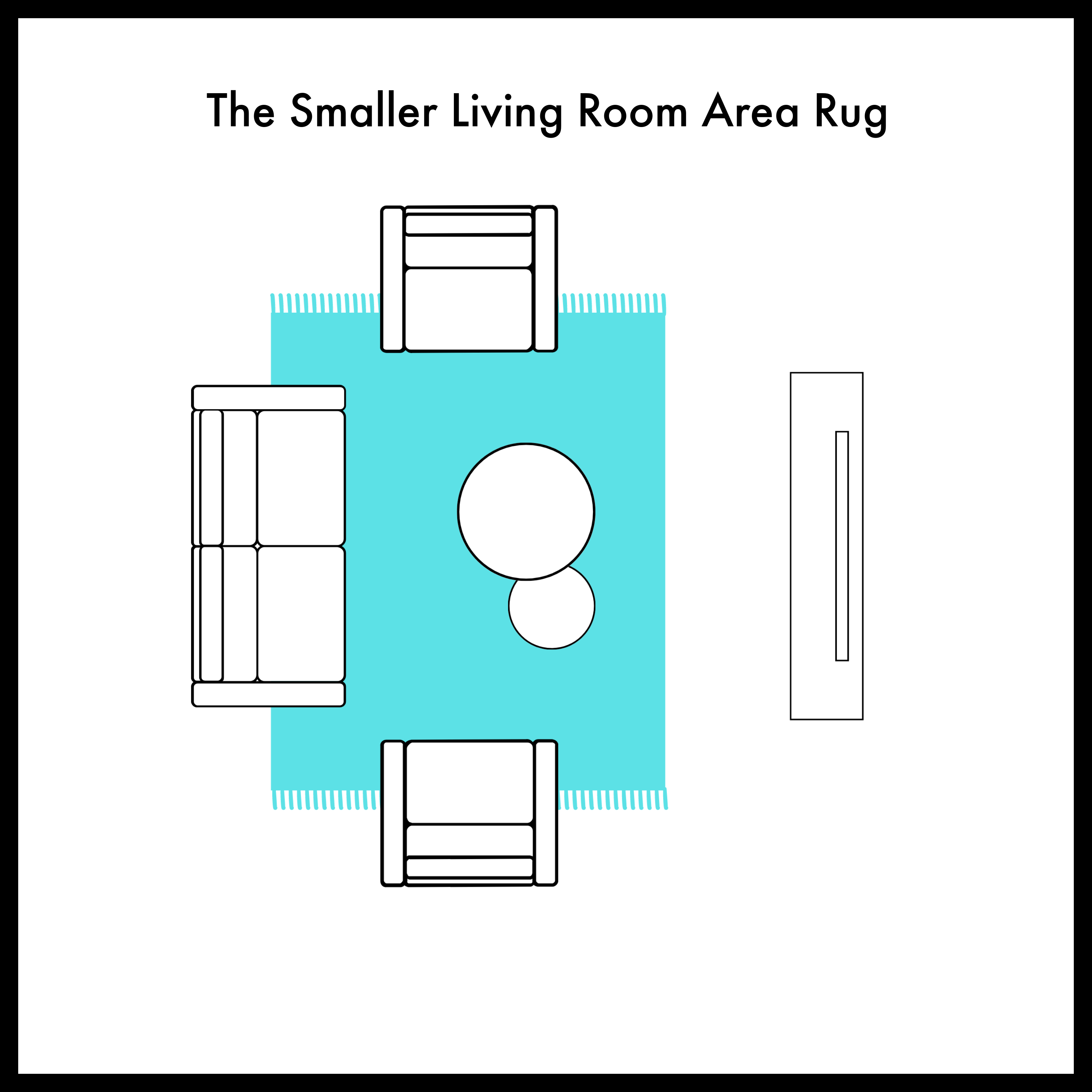 Since most people have a home that separates living spaces by walls, this is going to be the layout for most standard living rooms. Your area rug truly becomes the anchor around which your furniture is arranged, with the front legs of your seating sitting around the edges of your area rug.
Size & Shape
You do have a little more flexibility here. The most common sizes for living room area rugs are 5′ x 8′; 8′ x 10′; and 9′ x 12′. The shape is really up to you, but typically, the tried and true rectangle is the best way to achieve this format.
Materials & Style
The world is your oyster, man! As we mentioned above, its a pretty safe plan to go with a rug that matches your furniture's style, but feel free to mix it up a little bit here. And if you don't anticipate losing legos or barbie shoes, a shag is a fun way to add a ton of character and warmth to your living room. As above, wool, nylon, or poly are great options here. And for a very high traffic living room where spills may be more common than you'd like, try a washable area rug. They go directly into a washing machine and come out sparkling clean and ready to do it all again.
Pile Height
As we said, go nuts... with one caveat. If there are any doors, closets, or drawers that open into the boundary of your area rug, make sure that the pile height is low enough to clear those. There is nothing worse than getting an area rug home and finding out that it wont work because your door simply won't clear it. Can you cut down the door? Sure. But thats a lot of work that could have been avoided. Heed our words.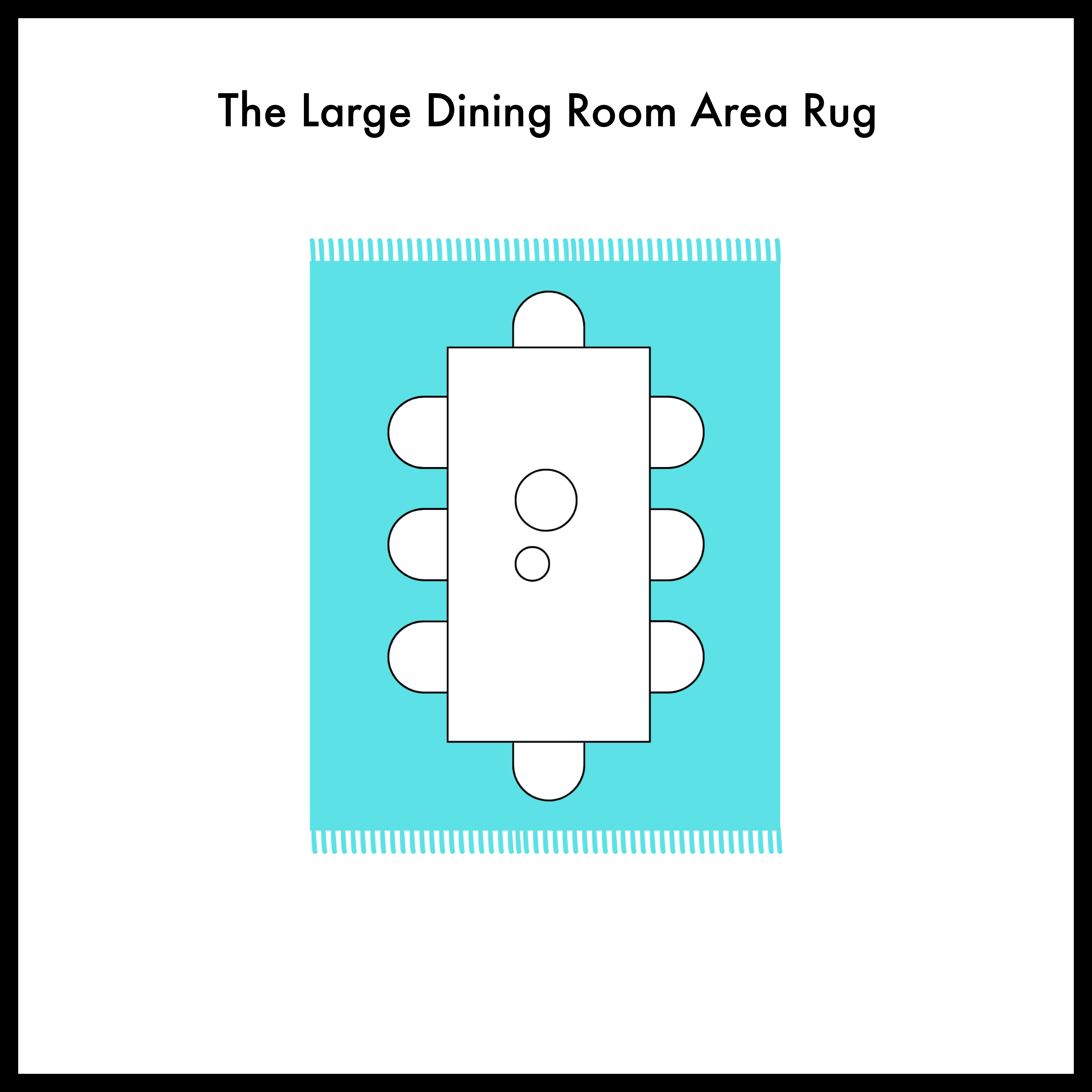 This is for those of you who have those nice long tables that easily seat 8.
Size & Shape
When it comes to a rectangular table, you can go for the same shape or opt for an oval rug. Doesn't really matter, but you'll want to give yourself at least 24" of rug behind each chair so that you can sit down and get up without your chair leaving the rug.
Materials & Style
We are partial to a pattern here., if possible. Why? Things can get a little messy under the dining room table and a pattern is a great way to camouflage things that might otherwise sully your area rug. We really love the relatively new washable rugs that have. made their way into the marketplace. You can get them in almost any color or pattern, and when the dinner party ends, you can simply throw the rug in the washer for a quick clean.
Pile Height
We like something low profile here. Not "super tight loop" low profile, but if you go for a low profile tufted rug, that will allow for a little bit of plush luxury while keeping things easy to maintain.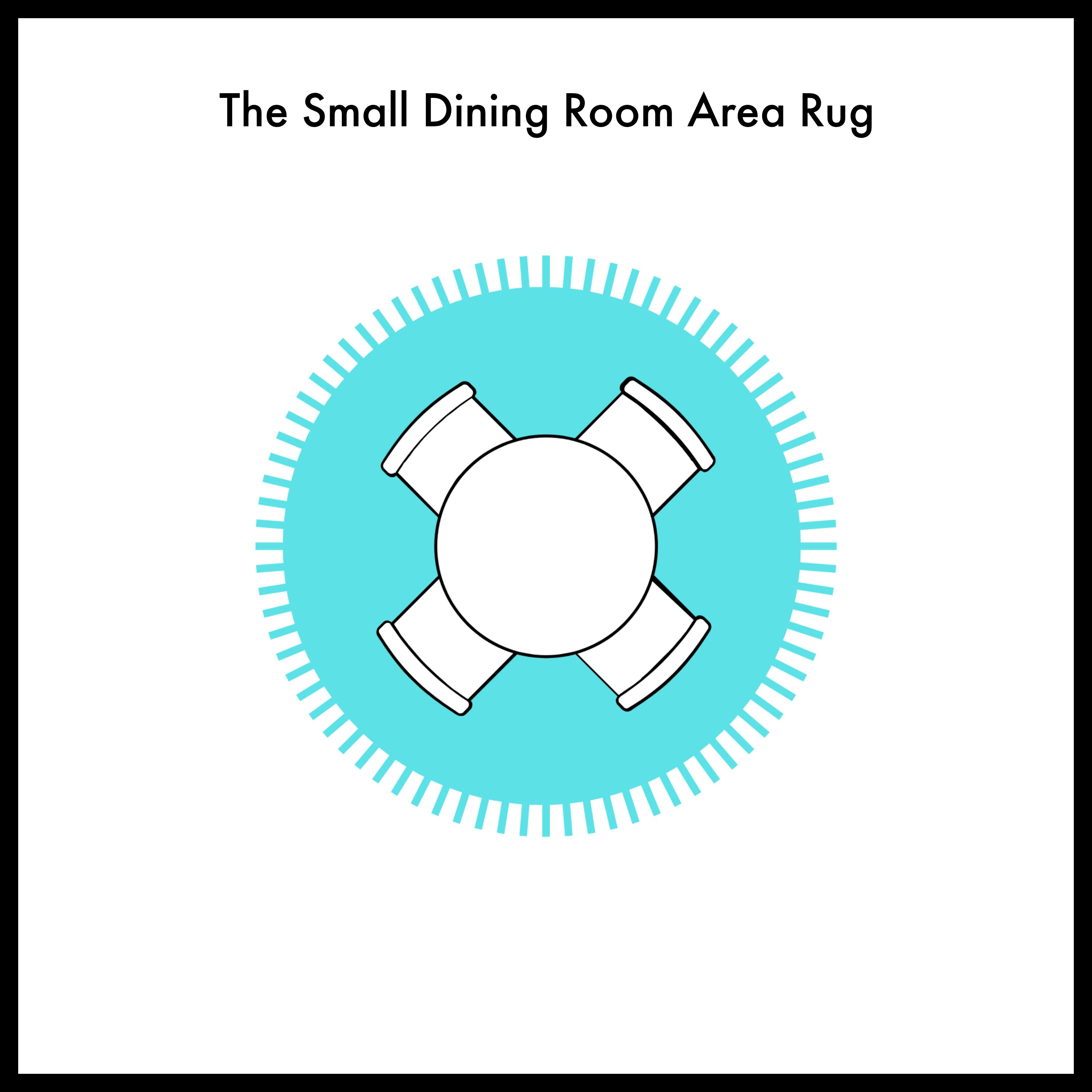 Size & Shape
This is going to depend on the size and shape of your table, of course. But the options here vary. For a round dining room table (as shown in our illustration), we love a round rug, but it's hardly necessary. A square rug does a nice job too. And for a rectangular dining room set up, a nice rectangular rug does well. Select the size that best fits your table BUT, as we mentioned before, be sure to measure at least 24 inches from the back of your chair to make sure you can stand up and push your chair out without it having to come off the rug.
Materials & Style
The same thing goes for your smaller dining room as for your larger when it comes to material and style. We are really partial to pattern here, if possible. Because things can get a little messy under the dining room table and a pattern is a great way to camouflage that. And we favor a low profile tufted rug or a washable rug, because, duh.
Pile Height
We like something low profile here. Not "super tight loop" low profile, but if you go for a low profile tufted rug, that will allow for a little bit of plush luxury while keeping things easy to maintain.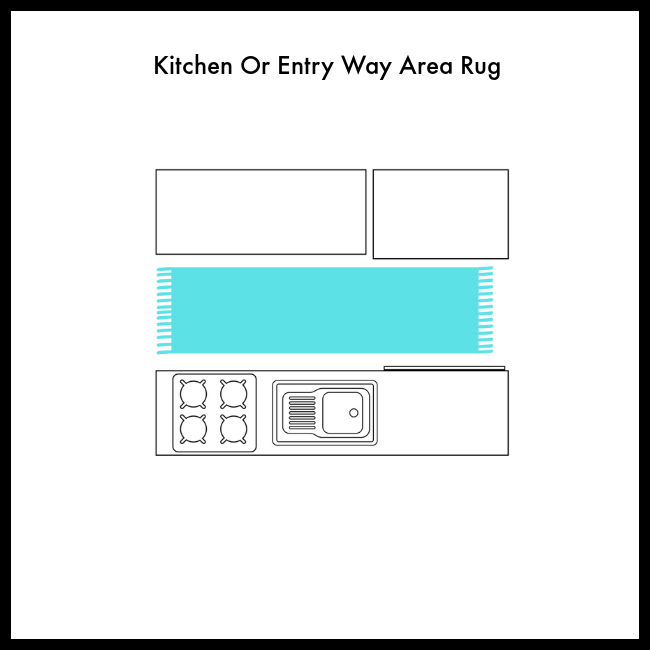 This little workhorse is small but mighty. The kitchen or entry way area rugs - or runners - absorb it all. The traffic from your homes major pathways. They absorb shock from standing at the sink doing a mountain of dishes. And they absorb that mud and muck you tracked in last week. Everything.
Size & Shape
When looking for an area rug for these spaces, you're going to want to look for something that runs the length of the space without stretching beyond the boundaries. The width should be somewhere between 2 and 3 feet, depending on the width of area you're covering, and the length is really up to you. Standard runners are typically between 5 and 10 feet in length.
Materials & Style
When it comes to materials, nylon is ideal for runners. Naturally stain resistant, it is easier to clean than its natural fiber counterparts. Now in this case, we're going to again suggest a pattern or a darker color for obvious reasons. And because we love to drive a point home, we're going to suggest you look into one of those washable rugs that offer vibrant patterns and the ease of throwing your dirty area rug into the washing machine.
Pile Height
How low can you go? This is a place that takes a beating, right? So going for something with a low profile is best. The last thing you want to do is find the perfect rug only to find that it gets tamped down with very little wear and tear. We also love a loop for this particular format.
And Finally...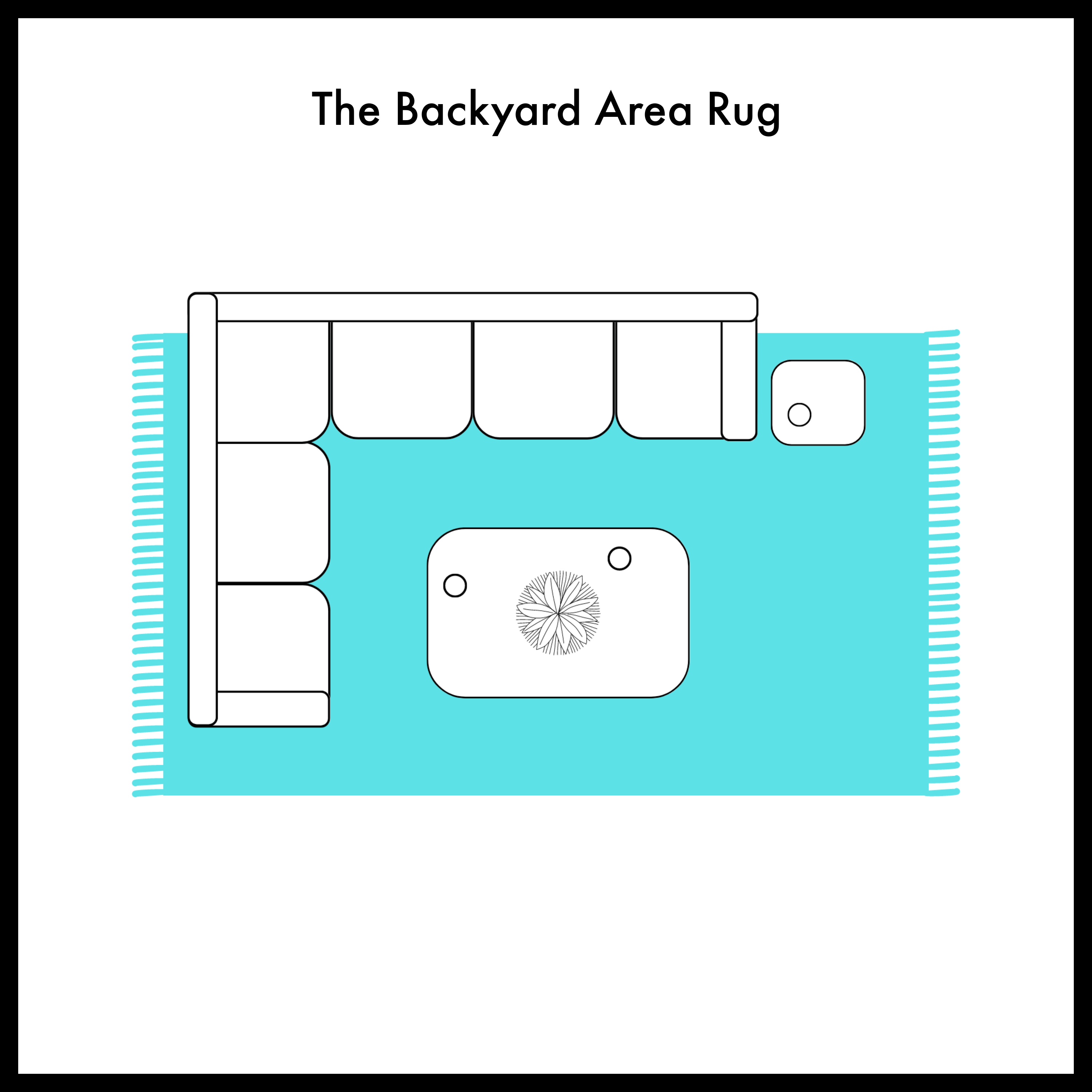 We saved this one for last because honestly, it's just so fun! An outdoor area rug is a relatively new concept and is such a neat way to create an outdoor space that is as welcoming at your living room.
Size & Shape
In this case, you can simply follow the recommendations for large or small living room layouts. The best part about these outdoor rugs is that it's assumed that you're going to be looking for something large, so there are many many large scale options.
Materials & Style
Go crazy, pal. Outdoor area rugs of yore used to all look like poor facsimiles of jute or seagrass. Not anymore. Today, you can get something big, bright, and bold or stick with the more natural looking offering. These rugs are typically made of polypropylene, so they are easy peasy to clean. Simply hose your rug down to wash away dirt and dust. But beware. Polypropylene gets its softness from a repeated washing of the fiber before it is made into a yarn. There is a good amount of soap residue still on this fiber, and that can attract dirt. So would we recommend you take it inside? No, we would not.
Pile Height
Keep this baby low. The outdoor area rug is typically a low profile piece ane we like it that way. Polypropylene is prone to crushing so a tufted rug in poly is not the best option.
---
The End.
(no really)
And there you have it! We've given you a shallow dive into the world of area rugs - just enough to be dangerous. Now get out there and put some plush into that space of yours!
Until next time...