---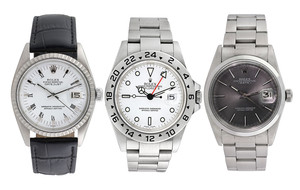 Vintage Rolex
Timeless Luxury
Rolex timepieces are marked in their precision, grace and durability. With specialty on-brand automatic movement, stainless steel oyster and leather bracelets and vintage styling, these timepieces are the capstone to your collection. Update your look with one of these gorgeous watches from this storied Geneva brand.
These Rolexes are gently pre-owned. Each Rolex has been carefully inspected, officially appraised and issued a 2 year warranty by the distributor. Each Rolex that is purchased will undergo another 4 hour inspection before delivery.
Sale Ended
The sale has ended for this item, but check out our other amazing sales.