---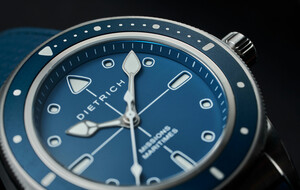 Dietrich Skin Diver
Engineered For Elegance
Dietrich always strives to create beautiful and compelling time-telling companions which speak to those who wear them, and speak of those who wear them. Their watches have their very own distinct personalities and are destined for those who aren't afraid to embrace and express theirs. The Skin Diver marks Dietrich's new creative direction in pursuit of reinterpreting iconic watch templates of the past. It is functional, utilitarian, yet unmistakably Dietrich in its form and attention to detail. This remarkable timepiece is also covetable for its highly limited production numbers.
All watches are in stock and ship within 2-3 business days.

Sale Ended
The sale has ended for this item, but check out our other amazing sales.